Growler, ½ gallon
00000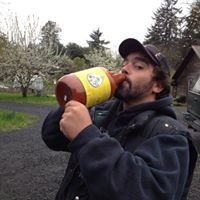 Not everyone drinks from the ½ gallon Growler but they are handy for refilling your container and bringing to parties. It's more a spicy food than hot sauce.
Chicaoji Sauce features organic Goji berries, Cacao and Chipotles. As both condiment & ingredient for cooking, Chicaoji makes good food taste better.
Chicaoji is packed with flavor and medium heat. The spiciness is intended to complement rather than dominate the flavor. People mix Chicaoji with blackberry jam to make BBQ sauce, yogurt for roasted veggies and dips and even a Bloody Mary mix.
################################
Chicaoji is a food/sauce to be eaten….and it just isn't that hot.
People drink it out of the bottle.
Try Chicaoji on anything.
Thank you very much. Enjoy!
Randall